Oven Maintenance Tips
Need cleaning and mainteance tips, read on for hany tips that can save time and money.
What cleaning products should you use ?
What cleaning products should you use, what's the difference between electric stoves and ovens – take your time to read some informative tips !
Oven repair guide
To keep you oven in top working condition, its always a good idea to follow this guide and try some of the tips mentioned. Following these tips may prolong the oven life and save repair costs in the future. → Make it a habit to wipe down your oven after use, along with your bench tops, this will remove sharp hard leftovers that can scratch your protective seal on your oven.
Many ovens rust in the short term because the left over burnt food wears away protective coating. → Keeping your oven seals clean and debris free is another important trade secret, simply wipe off any debris with a damp sponge chemical free and your oven will seal properly this will help with heat loss during the cooking process. Using chemical free from of detergents will prolong the life of your rubber seal also. → You should never use harsh chemicals to clean the inside of your oven, this will not only damage the internal wall of the oven but also damage your oven elements. Cooking elements are delicate and need to be cared for to get the most from them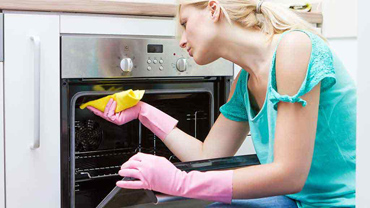 How to Clean Your Oven Without Chemicals
Believe it or not - , the items you need to keep your oven clean and well maintained are perhaps already in your kitchen. The regular maintenance of your oven will keep it in great working condition and in need of fewer oven repairs.
Even self-cleaning ovens are not self vacuuming ovens. A self cleaning oven just burns off spilled food at really high temperatures. You will need to vacuum-out the charred food remains left in the oven. Pricey oven cleaning products likely contain really harsh chemicals that may linger in your oven and completely ruin the flavor of food.
Here are tips for oven maintenance without using chemicals: Cleaning with Baking Soda Paste This oven cleaning method is perhaps the simplest and most effective way to clean your oven without using chemicals. Make a paste of baking soda and water, next coat the oven surface with the paste; leave it to work overnight. Wear gloves and scrape off the grime using a spatula or an old sponge.
Baking Soda & Soap Sprinkle dry baking soda directly on the oven floor. Next, mix 3 teaspoon of Borax, 1/8 cup of liquid dish washing soap and 1/4 cup vinegar with 2 cups of hot water. Pour the mixture into a spray bottle and spray the mixture on the baking soda. Leave overnight and then wipe away the grime the next day.
With these tips, you can keep your oven clean and save some money while you are at it. When it comes to oven maintenance, it is important that you only employ the services of a reputable company like United Electrical Services for minor or major oven repairs. No matter how handy you are when it comes to repairing appliances, you should never undertake oven repairs by yourself; you could end up causing more damage to your oven.
Oven Light Replacement
Replacing your oven light can be a tricky job, taking the glass protective cover of may not be so simple, then finding the right size bulb that will fit in your oven model can be a real issue with older models.
United electrical Services are on hand for oven seals and light bulbs, contact us today and book your appointment and let us maintain your oven to good health.
With small tricks, small failures can often be put right.
Every cook has a few tricks they have learnt themselves through trial and error or that have been passed on from previous generations. Sometimes just the addition of one sepecial herb can make the biggest difference to a dish. Here are just a few tips, please send us any you have, sharing is so much fun!
· If the coffee is too strong, it can be rescued by adding a little cocoa powder.
· Burnt saucepans can be much more easily cleaned by adding salt and water to let the saucepan soak for a while or by disolving a little dishwasher powder in water in the soaking water.
· If egg white can't be stiffly whisked, try adding a little lemon juice or salt
· Try putting a little lemon juice in the cooking water with rice, the rice will be extra white.
· When making meringue or other recipes using just egg whites, if a little egg yolk goes into the bowl, take the broken egg shell, hold it next to the egg yolk and the yolk will spring into the shell. Egg yolks can be frozen, don't forget to write how many yolks are being frozen every time.
· If the parsley you want to use is a little limp and old, put it in a little warm water and it will be fresh again.
· Onions wrapped in aluminium foil, don't begin to root, and they remain firm and fresh.
· Apples, bananas and pears don't go brown when the cut side is rubbed with a little lemon juice. For fruit cocktail just put the cut pieces of fruit in lemon juice to cover, then the fruit can be added to the other fruits in the salad.
· Fried onions cook much quicker, when they are first microwaved for a few minutes.